Leadership at MCOB
MCOB has a history of strong lay leadership in the church. For most of its existence MCOB shared pastoral duties among lay members working with the Church Council, a group of regular participants. Numerous committees, including the Church Council and the Worship Committee continue to play a significant role in the leadership of MCOB and the planning of weekly meetings throughout the year. Beginning in 2009, MCOB welcomed Nancy Frey as our half-time pastor. In the fall of 2012, we welcomed Bruce Bradshaw as our pastor who served in a half-time role for ten years. As we conduct a search for a long-term pastor, we are delighted to have welcomed Kate Andre to serve as Interim Pastor.
Pastor Profile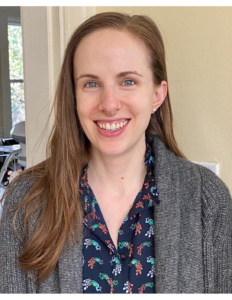 Kate Andre is honored to be serving as MCOB's Interim Pastor! After studying Music and Drama as an undergrad at UNC-Chapel Hill and pursuing performance in NYC, Kate attended Yale Divinity School where she earned an M.Div. and S.T.M. Her master's thesis focused on sketch comedy and community-building in worship. Kate also trained in multi-faith college chaplaincy with Yale University Chaplain Sharon Kugler and served from 2013 to 2015 as the Director of Campus Ministry at the University of Saint Joseph in West Hartford, CT. From 2015 to 2019, Kate taught World Religions, Philosophy & Ethics, and led the Upper School Campus Ministry program at the Convent of the Sacred Heart, an all-girls' school in Manhattan's Upper East Side. She completed her 200-hour Yoga Teacher Training at Kripalu in 2013 and 40-hour Basic Mediation Training with the New York Peace Institute in 2016. Kate served as a Chaplain Resident at The Mount Sinai Hospital from 2019 to 2020, completing her training in the height of the pandemic. Since 2019, Kate has also been New York City's Regional Coordinator for Contemplative Leaders in Action, a young adult formation program in Ignatian spirituality and leadership, and in 2021 she helped to launch and lead CLA's Virtual cohort.
Kate has been married to her husband, Erol, since 2019, and the couple welcomed their son, Theo, in 2020. After a recent relocation the Greater Boston Area, the family is excited to being planting roots in Massachusetts. When she is no busy with ministry, Kate enjoys exploring National Parks, making her signature Bolognese, and serving as disc jockey to a musically eclectic toddler. She is thrilled to join the dedicated and deep community of MCOB.